Colorado Gambling and Online Casinos – State of the Industry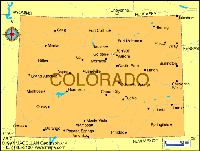 Colorado is going to be an intriguing state for online casino lobbyists in the coming years. Since voters decided to end the prohibition of marijuana, many around the country believe Colorado could turn liberal.
As of now, however, that is not necessarily the case when it comes to casino gambling. Land-based casinos are legal and gaming facilities are operational in Black Hawk, Cripple Creek, and Central City. Additionally, Indian tribe casinos are legal throughout the state. These casinos, however, have many limitations and the stakes are generally lower than in most states.
Colorado does allow, by law, social gaming. That form of gaming is defined as betting that takes place between people who have a social relationship. The money bet in these games, which are often referred to as "House" games, must all be paid out to winners. If the house takes a cut, the game then becomes illegal under state law.
Latest Colorado Casino Gambling News
Stay up to date with the latest news related to online gambling, casinos, and poker in Colorado…
Online Casinos for Players from Colorado
Internet gambling is not regulated in Colorado. It is expected that some form of Internet gambling regulation will be on the ballot in two years, with lawmakers debating the issue sometime in 2013.