Nevada State & Las Vegas Gambling and Online Casinos Updates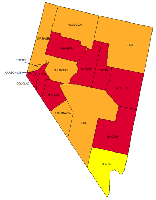 For the past century Nevada, Las Vegas specifically, has been synonymous with the word gambling across the globe. Over the past ten years, however, things have changed. Gambling is now everywhere and Las Vegas intends to stay on top of the industry, even as gaming expands to the Internet.
The major players in Las Vegas are the publicly traded companies like Las Vegas Sands, MGM, and Wynn. Las Vegas Sands and Wynn have expanded to Macau, Singapore, and even now Spain. MGM continues to expand across the US, but as the world now turns to the Internet the whole landscape could change. Caesars, another now publicly traded company, already has an online presence in the UK and runs the World Series of Poker, giving them a competitive advantage online.
However, this landscape will be truly be formed as the USA begins to legalize and regulate the industry. So here is where you can keep up with the future of gambling online, and in Nevada.
Update
– As of May 1st – Ultimate Poker officially began allowing real money wagers from poker players within state borders making them the first regulated site in the USA!
Latest Nevada Casino Gambling News
Stay up to date with the latest news related to online gambling, casinos, and poker in Nevada…
Online Casinos & Poker Rooms for Players from Nevada

Ultimate Poker is now live for players residing in Nevada. This is officially the first USA regulated online gambling site. It is just for poker player.
Click here to visit Ultimate Poker Now!