Delaware Gambling and Online Casinos – State of the State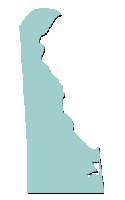 One of the smallest states in the country, Delaware has shown that size does not matter when it comes to gambling. The state has remained one of the most liberal in the nation with its gaming laws, and this summer it became one of only two states in the US to pass online casino regulations.
Delaware legislators, led by Governor Jack Markell, passed the
Delaware Gaming Competitiveness Act
in June of 2012. The law allows existing casinos to offer their games online through a centralized hub.
The three existing land-based casinos had been complaining to the governor that they were losing revenue due to casino expansion in neighboring states. Lawmakers responded by passing the new regulation law this summer. The addition of online gambling is expected to bring hundreds of millions of dollars of revenue to the state, and will also allow land-based casinos to avoid layoffs that would have been necessary without the new legislation, according to analysts.
Delaware is not only ahead of the curve on Internet gaming, but also sports betting.
Back in 1992, when the federal government passed a law making sports betting illegal, Delaware opted out of the law. Nearly 20 years later, Delaware took advantage of that opt-out and authorized sports books. The sports books are currently operational, accepting parlay bets from gamblers. Single game bets are still illegal in the state.
The online casinos are expected to be open in the first half of 2013. Delaware will have to abide by federal laws, which state that only in-state gambling can be conducted online, but the Gaming Competitiveness Act leaves open the possibility of compacts with other states allowing multi-state gaming, should the federal laws change.
Latest Delaware Casino Gambling News
Stay up to date with the latest news related to online gambling, casinos, and poker in Delaware…

Delaware Looking To Beat Nevada Into Online Casino Market
Delaware, New Jersey, and Nevada are in a race to become the first to regulate online gambling, and Delaware is seeking to take the lead in that race.

Delaware Online Casinos Coming in Early 2013 – New Online Gambling Law
Delaware governor Jack Markell signed the Gaming Competitiveness Act of 2012 into law and the state will offer their first online casinos in 2013.
Online Casinos for Players from Delaware
Coming in the first half of 2013 available to intra-state gamblers online. We will update this section as soon as casinos are available online in to Delaware bettors.