Florida Gambling and Online Casinos – State of the State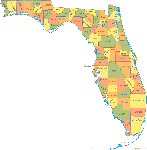 Currently, Florida does not have laws that declare online gambling illegal or legal. There have been many attempts to pass legislation that would make poker and online casino games legal and regulated in the state, but none have been able to pass all three parts of the Florida state government.
Florida gambling is exploding right now offline. The Hard Rock casinos in Tampa and Hollywood are the two biggest gaming attractions in the state, both owned and operated by the Seminole Indian tribe. State run casinos and poker rooms also exist and currently
Casino Pulse
is the source of information regarding Florida casino action.
Latest Florida Casino Gambling News
Stay up to date with the latest news related to online gambling, casinos, and poker in Florida…
Online Casinos for Players from Florida
Coming soon?