Georgia Gambling and Online Casinos – State of the Industry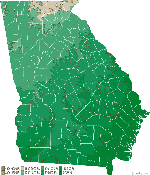 Georgia is one of the few states in the US that has not made much of an effort to move towards regulated casino gambling of any kind.
In a state where casino gambling is considered somewhat taboo, lawmakers briefly attempted to pass legislation to allow a casino at Underground Atlanta.
Back in 2008 and 2009 when the buzz was growing regarding a possible casino, studies were done that showed Georgia would benefit greatly both from revenue and job creation if a new Underground Atlanta casino was built. The casino was rejected.
One form of gambling that is legal in Georgia is the lottery. The 2008-09 proposal to add a casino was proposed as an expansion of the Georgia Lottery, but to no avail.
The Georgia lottery only operates at retail locations. While many states have moved their lottery online to become the first explicity legal form of online gambling, Georgia has not.
Georgia law does state explicitly that home poker and casino games are illegal, and several high profile cases involving home poker games have come before the state Supreme Court in recent years.
Latest Georgia Casino Gambling News
Stay up to date with the latest news related to online gambling, casinos, and poker in Georgia…
Online Casinos for Players from Georgia
To the best of our knowledge there are no laws disallowing online gambling within state borders, although there may be current laws that speak of video gaming machines at physical locations, which may relate to online gambling, but no cases against operators or players have been brought up in Georgia. *
It is not expected that any movement towards regulating online poker or Internet casinos will be made anytime in the near future in Georga.