Illinois Gambling and Online Casinos – State of the State – Chicago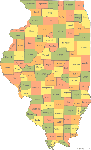 The gaming industry in Illinois was in the national headlines for much of 2012 due to the constant imminence of bills in the legislature that would all ultimately put a casino in Chicago. Currently, there are nine casinos in the state, all of which are housed on riverboats.
The Illinois House and Senate have created several bills that would add casinos in majorly populated areas of the state. Governor Pat Quinn, however, has remained opposed to broad expansion of gambling, and has vetoed or threatened to veto several bills that have been passed.
Mayor Rahm Emanuel has been a proponent of a new casino in Chicago, one of the most heavily populated areas of Illinois, but his endorsement has not swayed Governor Quinn. The governor did claim when he vetoed the latest legislation that he would work with Emanuel on finding common ground on the issue.
With land-based casinos still a pipe dream, online gambling is no closer to a reality in Illinois either. Legislators have passed a bill allowing electronic pull-tab machines, and individual municipalities have been able to opt-out of the law. Dozens of local jurisdictions have taken that opt-out clause, while other areas currently allow the electronic pull-tabs.
Illinois has the highest tax rates in the nation for its casinos, taking 50% of each casino's winnings.
Latest Illinois Casino Gambling News
Stay up to date with the latest news related to online gambling, casinos, and poker in Illinois …
Online Casinos for Players from Illinois
Illinois is one of the few states that explicitly addresses online gambling, stating that it is illegal for an operator to accept wagers from the state's residents, however, there are no laws that explicitly state that it is illegal for players to gamble online. *