Louisiana Gambling and Online Casinos – State of the Industry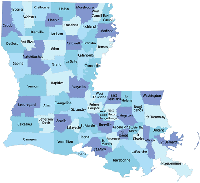 When it comes to gambling, Louisiana is one of the tougher states to understand. The state allows riverboat and land-based casinos, but is vague when it comes to online casinos.
Louisiana is considered one of the leaders in the gaming industry, having legalized casinos back in 1991. Since then, dozens of other states have followed its example and added casinos to their tourism industry.
Louisiana currently has 15 riverboat casinos, three Indian tribe casinos, and four pari-mutuel facilities that are permitted to offer video gambling. The casinos can operate around the clock, and are allowed to offer slots and table games. The major areas for the casino gambling in Louisiana are Baton Rouge, New Orleans, Shreveport, and Lake Charles.
In 2005, Hurricane Katrina ravaged the Gulf Coast, and left Louisiana casinos in shambles. The casinos spent months renovating after the hurricane, and it has taken years for profits to return to pre-storm standards. The economic recession of 2008 further hurt Louisiana casinos at a time when the state was just starting to recover from Katrina. Over the past few years, the casinos have started to increase revenue and are ranking once again as some of the most visited casinos in the US.
Latest Louisiana Casino Gambling News
Stay up to date with the latest news related to online gambling, casinos, and poker in Louisiana…
Online Casinos for Players from Louisiana
Louisiana's online gambling laws make it clear that running an online casino is illegal. The law, like many around the US, does not directly address gamblers playing online. That has left most legal analysts to conclude that gamblers are not at risk when they play at online casinos. Because there are no regulations and laws are ambiguous we cannot recommend a place for the state's players to play, therefore, it is up to the gambler to research and make that decision on his or her own. *