Massachusetts Gambling and Online Casinos – State of the State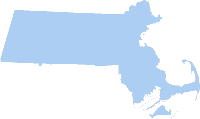 Massachusetts is relatively new to the gambling and casino industry. The state has never permitted licensed casinos until 2012. Governor Deval Patrick has been a proponent of gambling expansion, and negotiated several gaming expansion deals during his tenure.
In early 2012, Patrick and lawmakers came to an agreement on a bill that will allow for three casino licenses in the state. The resort casinos are expected to be a building block for further expansion.
When the legislation was originally crafted for the three casino licenses, online gambling provisions were in place. The online poker exceptions were eliminated from the final bill by the state senate, and the bill eventually passed with no online regulations.
That could change in the near future with Patrick being such a strong proponent of gaming revenue. The governor has not yet made a specific push to regulate online poker, but has indicated that he would be open to the idea if it brought the state additional revenue during a tough economic period.
Massachusetts received some bad news in late 2012 on another gambling front when the US Department of Interior rejected a compact between Governor Patrick and the Mashpee Wampanoag tribe. The compact would have allowed the tribe to operate a casino in Southeastern Massachusetts, and would have positioned the Mashpee's to operate an online casino had the laws changed in the coming years.
Currently, there are no laws explicitly against or for online casino gambling in the state.
Latest Massachusetts Casino Gambling News
Stay up to date with the latest news related to online gambling, casinos, and poker in Massachusetts…
Online Casinos for Players from Massachusetts
Coming soon?