Michigan Gambling and Online Casinos – State of the State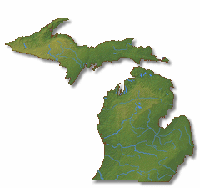 Michigan officials previously stated online gambling to be illegal in the state based on the 1961 federal Wire Act. However, since the US Department of Justice declared only sports wagering to be covered by the Wire Act the Michigan stance also only applies to sports wagering over the Internet. * With no laws on the books one way or the other, the Michigan legislature have been exploring ways to regulate the casino gaming industry online.
In the year since the DoJ ruling, there has been speculation that Governor Rick Snyder would spearhead an effort to regulate online gambling. That assumption, however, has proven to be premature, as Snyder has not publicly commented on the possibility of such a law change in Michigan.
If Michigan legislators do decide to take up such a bill, the state would be positioned to become a powerhouse in the industry. Already Michigan is home to 25 casinos. The state expanded their gaming industry in the mid-nineties, although many of the casinos in Michigan are operated by Indian tribes.
Michigan also offers one of the friendliest tax rates for land-based casinos. Currently, the state only receives 10% of the winnings at tribal casinos. In exchange, the tribes have exclusivity on slots and other casino games.
It is not yet known whether tribal casino owners will join a national tribal movement to gain permission to offer online casinos to their customers.
Latest Michigan Casino Gambling News
Stay up to date with the latest news related to online gambling, casinos, and poker in Michigan…
Online Casinos for Players from Michigan
Currently the state of Michigan declares gambling online to be illegal –
reference link
.