New Hampshire Gambling and Online Casinos – State of the State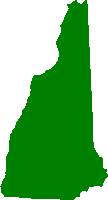 New Hampshire is one state that has fallen behind the rest of the Northeast when it comes to casino gambling. The state currently has no laws that regulate the gaming industry, but lawmakers have started the process of changing the state Constitution.
The election cycle ends in November, and no matter the outcome in New Hampshire's gubernatorial race, it appears as though the state will be catching up to their neighbors with more liberating gaming laws. Democratic candidate Maggie Hassan is in favor of one license for a casino resort. Hassan's plan would allow bidding on the license and would open it up to be built anywhere in the state.
Hassan's opponent, Republican Ovide Lamontagne, is also in favor of the state's first casino, but Lamontagne's plan would place the casino at Rockingham Park in Salem. Lamontagne was previously against casino gaming, but as the landscape has changed in the Northeast, the candidate has changed his stance.
While the land-based casinos will be new to New Hampshire in the coming years, there are no such plans to add regulated online casinos.
In 2010, New Hampshire lawmakers passed legislation allowing the New Hampshire Lottery to offer lottery gambling online. PlayNow NH has been up and running since July of 2010, and offers gamblers within the state the chance to purchase and play games similar to the scratch-off tickets sold in retail stores.
Latest New Hampshire Casino Gambling News
Stay up to date with the latest news related to online gambling, casinos, and poker in New Hampshire…

New Hampshire Police All In For New Casinos
New Hampshire police groups are taking the unusual stance of supporting efforts to bring new forms of gambling to the state through casino expansion.
Online Casinos for Players from New Hampshire
Coming soon?